Week Three Predictions & Previews
I went 10-1 in my Week Two straight-up game predictions, a 90% success rate, but scored a less-impressive 7-4 in my Win-Type picks, hitting on 63%.
Win Types
- Close:
Win by 1-10 points
- Comfortable: Win by 11-21 points
- Blowout: Win by More than 21 points
You can check out the

Week Two Prediction Scorecard to see how I fared on each game. You may also want to read my Week Two Predictions & Previews, to review my reasoning.
Over the first two weeks, I'm now 19-4 in game picks, or 82% on the season, and 14-9 for 60% on margin picks.
---
The Picks
---
UC Davis (2-0) at
#9 Stanford (2-0)
Saturday, September 15, 11:00 a.m. PT, Pac-12 Network
Stanford Stadium, Stanford, CA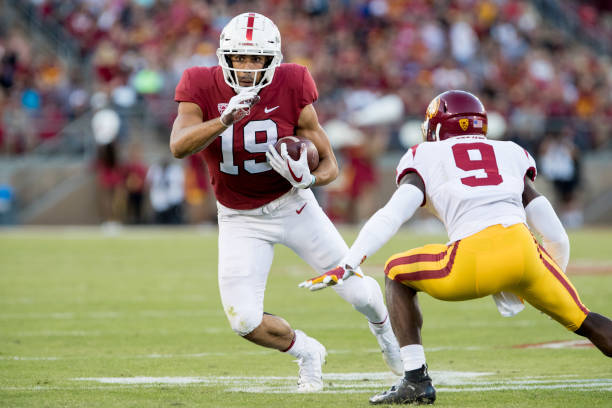 Stanford wideout JJ Arcega-Whiteside runs around a Trojan after one of his four receptions for 62 yards against USC last week.
Pick: Stanford (no line) in a Comfortable Win

Ordinarily this would be an easy game for the Cardinal. But with Bryce Love out nursing an undisclosed injury, and the Aggies winning their first two games impressively, it may prove tougher than expected. UC Davis has averaged 49 points per game behind Jake Maier's 411 yards per game passing, and has forced five turnovers on defense. In the end, though, Cameron Scarlett should be an adequate replacement for Love. K.J. Costello will exploit the Aggies' vulnerable secondary, connecting with wideout
JJ Arcega-Whiteside
and tight end Kaden Smith
.
Notes: Stanford leads the series 2-1, and won the last meeting 45-0 in 2014. The Cardinal held USC to 114 yards rushing last week behind the co-team-high 10 tackles of linebackers Bobby Okereke and Sean Barton. Free safety Malik Antoine nabbed two fourth-quarter picks.
---
San Jose State (0-2) at
#20 Oregon (2-0)
Saturday, September 15, 2:00 p.m., PT, Pac-12 Network
Autzen Stadium, Eugene, OR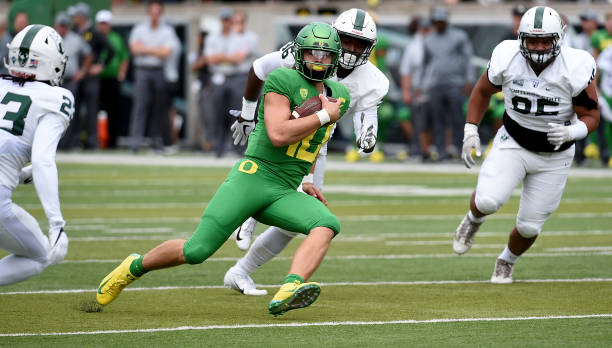 Oregon's sophomore quarterback Justin Herbert eludes Portland State defenders last week. Through two games, he has thrown nine touchdown passes to six different receivers.

Pick: Oregon (-42) in a Blowout Win
The Ducks should blow the doors off the Spartans in their final tune-up on Saturday before next week's Stanford game. Justin Herbert is likely to put up more gaudy numbers, but we may also see whether
Tony Brooks-James or
CJ Verdell emerges as the featured back. Or the Ducks may continue to use several, and why not? Oregon is the only FBS team to have had 12 different players score a touchdown. The Ducks have played much cleaner in the first two games after being one of most penalized teams last year under Willie Taggart, committing just 35 yards of infractions.
Notes: Oregon leads the series 12-6, and won its last matchup with the Spartans 58-3 in 1998. Ironically,
Oregon offensive coordinator Marcus Arroyo was San Jose State's quarterback that day at Autzen. T
hrough two games, Herbert has thrown nine touchdown passes to six different receivers.
New Hampshire (0-2) at
Colorado (2-0)
Saturday, September 15, 2:00 p.m., PT, Pac-12 Network
Folsom Field, Boulder, CO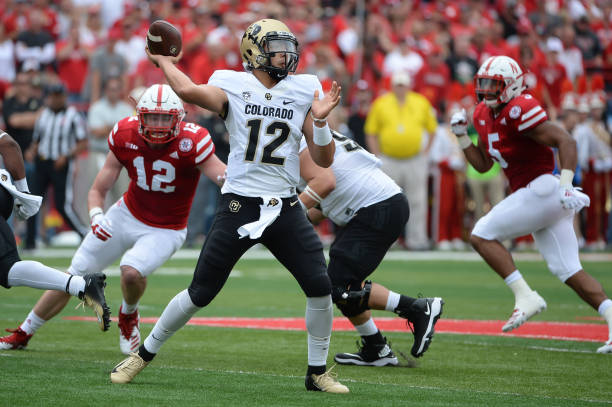 Colorado quarterback Steven Montez connected on 33 of 50 passes for 351 yards and three touchdowns agains Nebraska.
Getty Images
Pick: Colorado (no line) in a Blowout Win

After starting with two FBS opponents, its Colorado's turn to take an FCS breather against New Hampshire. The winless Wildcats of the Colonial Athletic Association have averaged just 157 yards of offense in their first two games, but return 18 starters. Among them are three-year veteran quarterback Trevor Knight, and Walter Payton finalist wideout Neil O'Conner. Many CU fans will remember the Buffs losing to Sacramento State in 2012, but there's no worry that
Colorado might fall to an FCS foe at home on Saturday.
Notes: This is the first-ever meeting between the two teams. Colorado's
Laviska Shenault Jr., who pulled in 10 receptions for 177 yards against the Huskers, leads the FBS in receptions per game with 10.5. Fellow Buff wideout Jay MacIntyre had a career high eight receptions to go with his first career two-touchdown game last week.
Idaho State (1-0) at

California (2-0)
Saturday, September 15, 3:00 p.m., Pac-12 Network
Memorial Stadium, Berkeley, CA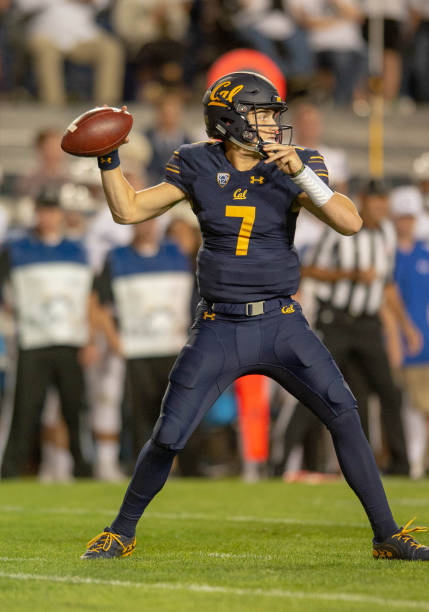 Cal quarterback Chase Garbers completed 18 of 28 passes for 176 yards and two touchdowns last week against BYU.

Pick: California (no line) in a Blowout Win

The Bears should dominate Idaho State in every aspect of this contest. Although the Bengals' defense gave up just 135 yards in their opener, Bears quarterback Chase Garbers should find plenty of opportunities to finally get Cal's
passing attack up to speed. Patrick Laird will get his yards as always.
ISU does have a dynamic punt returner in Kieran Yancy, but the Bengals' offense won't pose much of a threat to
Cal's solid defense, which has recorded six picks, holding opponents to 17 points per game.

Note: This is the first meeting between the two teams. Cal has not allowed a touchdown in the first three quarters of its first two games. Bears linebacker Evan Weaver posted his second career double-digit tackle game last week, finishing with 12 tackles. He also posted multiple pass breakups for the first time in his career, recording three vs. BYU.
---
Oregon State (1-1) at Nevada (1-1)
Saturday, September 15, 4:00 p.m. PT, ESPNU
Mackay Stadium, Reno, NV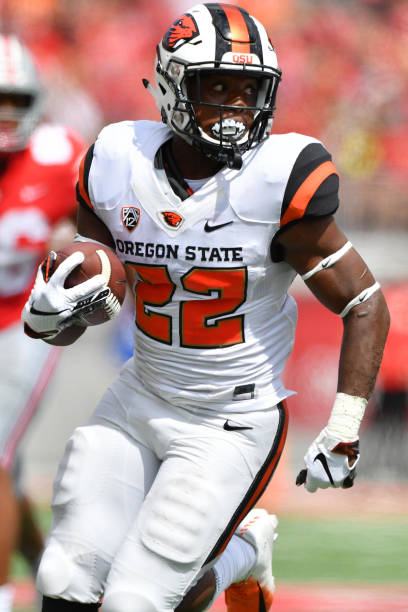 Oregon State running back Jermar Jefferson, shown here against Ohio State in Week One, rushed for 238 yards and four touchdowns last week against Southern Utah.
Pick: Oregon State (+3) in a Close Win
These aren't the Beavers you used to know. Jonathan Smith has infused Oregon State with an excitement that didn't seem possible last season. Especially on offense, where OSU leads the Conference in rushing and is second in total offense and scoring. The Beavers should score plenty on the Wolf Pack. Jermar Jefferson set a new single-game Pac-12 freshman rushing record last week. The question is whether OSU's defense can stop Nevada. The Pack put up more points and yards on Portland State than the Ducks, but they also gave up 41 to Vanderbilt. OSU has lost 20 straight road games, but this is where that streak ends, in a wild-but-close shootout.
Notes: The Beavers lead the series 3-0, winning the last contest 28-13 in 1999.
OSU's 649 total yards against Southern Utah was the seventh-highest total in program history, and the best output since Nicholls State in 2012. The Beavers' 41 first-half points were more than they scored in any game last season, and the most by an Oregon State team in the first half since 2006.
---
#22 USC (1-1) vs. Texas (1-1)
Saturday, September 15, 5:00 p.m., FOX
Royal Texas Memorial Stadium, Austin, TX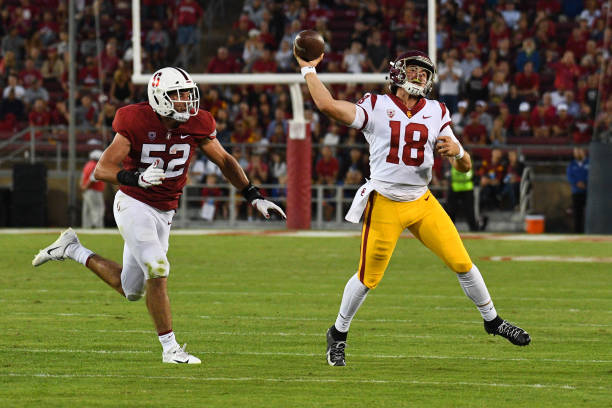 Freshman USC quarterback JT Daniels had a rough first road game at Stanford, completing 16 of 34 passes for 215 yards, with two interceptions and no touchdowns.
Pick: USC (+3) in a Close Win
Had the Trojans defeated Stanford and Texas defeated Maryland in Week One this might have been hailed as one of the biggest games of the season. Now it's an opportunity for one of these teams to regain some relevance. JT Daniels looked mortal last week, but every young quarterback needs a humiliating loss to learn from. He'll play better against the Longhorns because of it, provided his banged up hand holds up. Texas struggled to pull away from Tulsa last week, sputtering to a one-touchdown win. UT shouldn't pose much of a problem offensively. It won't be pretty, but the Trojans will find away to avoid losing two straight.
Notes:

USC leads the regular-season series with Texas 5-0, winning the last one in overtime, 27-24, in 2017. Of course, that doesn't include the game everyone remembers,

the Longhorns' 41-38 victory in the 2006 Rose Bowl for the National Championship. The three points USC scored against Stanford last week was its fewest since a 27-0 shutout at the hands of Washington in 1997.
---
Eastern Washington (0-1) at
Washington State (1-0)
Saturday, September 15, 5:00 p.m., Pac-12 Network
Martin Stadium, Pullman, WA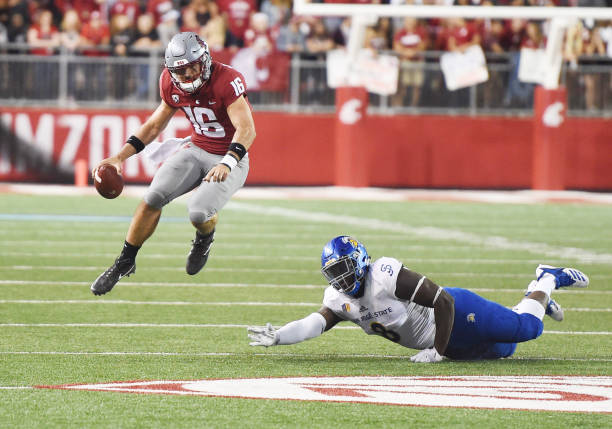 Washington State quarterback Gardner Minshew avoids a defender against San Jose State, completing 34 of 51 passes for 414 yards, three touchdowns, and two interceptions.
Pick: Washington State (no line) in a Close Win
As well as the Cougars have played their first two games—outscoring both opponents by an average of 24 points, and holding them to an average of 91 yards per game—their defensive secondary hasn't really been tested. WSU should learn what they need to know against Eastern Washington, an equally prolific passing attack. The Eagles are led by veteran quarterback Gage Grubrud; he and WSU's Gardner Minshew could end up trading scores. Regardless of how Wazzu's defensive backs respond, the Cougars will come away with a win.

Notes: Washington State leads the series with the EWU 3-1, but lost the last meeting 45-42 in 2016. Last week, the Cougars held San Jose State to 109 yards of total offense, the fourth-fewest yards allowed in program history, and the fewest since limiting Oregon to 97 yards in 1994. WSU allowed SJSU just nine yards rushing.
---
#10 Washington (1-1) at Utah (2-0)
Saturday, September 15, 7:00 p.m. PT, ESPN
Rice-Eccles Stadium, Salt Lake City, UT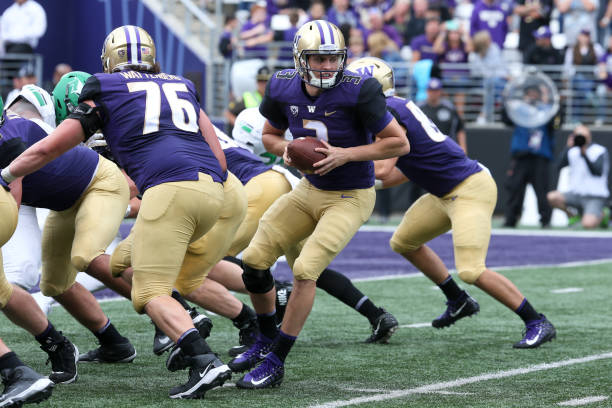 Washington quarterback Jake Browning threw for 313 yards agains North Dakota, the eighth 300+ yard game of his career.

Pick: Washington (-5.5) in a Close Win
This figures to be a low-scoring contest, with the Utes leading the nation with a scant 143 yards allowed per game.
But holding the Huskies to less than their typical offensive output may not be as difficult as outscoring them.
The Utes
needed Chase Hansen's late 40-yard pick-six to put away Northern Illinois last week, after scoring just one offensive touchdown. By contrast, Washington put up 398 yards on a stout Auburn defense two weeks ago. The Dawgs have enough offensive weapons in Jake Browning,
Myles Gaskin,
and a host of talented receivers
to outpace the Utes on the scoreboard. Ultimately, it may come down to turnovers, and both teams have had their problems there. Washington survives its trip to Salt Lake City, but not by much, showing it still belongs in the playoff conversation.
Notes: UW leads the series 10-1, and won last year's contest
33-30
in Seattle

.

Wide
receiver Quinten Pounds was one of 11 different Huskies to catch a pass vs. North Dakota, pulling in three receptions for a team-high 98 yards. Four different Huskies had more than 70 yards receiving. Utah
wideout Britain Covey tied his career high with 129 yards on eight catches last week against NIU.
#23 Arizona State (2-0) at San Diego State (1-1)
Saturday, September 15, 7:30 p.m., PT, CBSSN
SDCCU Stadium, San Diego, CA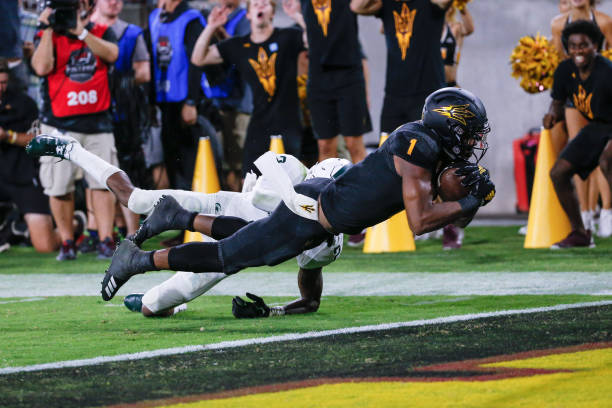 ASU receiver N'Keal Harry stretches out for one of his 6 catches for 89 yards and this touchdown vs. Michigan State.
Pick: Arizona State (-6) in a Comfortable Win
The Aztecs have shut down every running back they've faced, including Bryce Love, allowing just two yards per carry. But their pass defense hasn't been anywhere near as good, as Stanford discovered in the second half. Look for Manny Wilkins and N'Keal Harry to follow that blueprint offensively. As one of the best defensive teams in the country, ASU will cause problems for SDSU backup quarterback Ryan Agnew, who starts after Christian Chapman went down with a knee injury against Sacramento State.
Aztec running back
Juwan Washington will have an impact, but shouldn't run wild on ASU's front line. Don't look for the
Devil's to put up a lot of points, but they'll
score enough to win.
Notes: Arizona State leads the series 10-1-1, with their lone loss, a 30-20 shocker at the time, coming in Tempe last season. Wilkins threw for a career-high 380 yards last week, surpassing his previous career-best of 372 yards. Junior Kyle Williams recorded his third career 100-yard performance, catching seven balls for 104.
---
Fresno State (1-1) at

UCLA (0-2)
Saturday, September 15, 7:30 p.m., PT, FS1
Rose Bowl, Pasadena, CA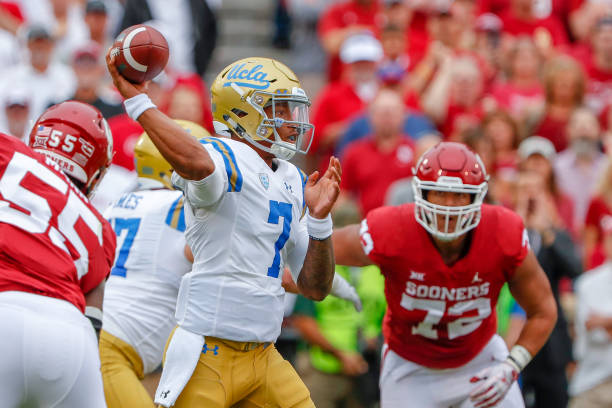 UCLA freshman quarterback Dorian Thompson-Robinson completed 16 of 26 passes for 254 yards and a touchdown in his first career start last week against Oklahoma.
Pick: Fresno State (-2.5) in a Close Win
The Bruins should play better at home this week than they did in their opener against Cincinnati. However, the Bulldogs pose a greater threat, despite losing a one-score game to Minnesota last week. Fresno State coach Jeff Tedford always fields a tough defense: his
2010 Cal team was one of only three opponents
(with Stanford and Boise State)
to hold Kelly's Oregon offense under 15 points. Kelly's UCLA offense remains unsettled with uncertainty at quarterback and a front line that has given up a sack every seven pass attempts. The Bruins should be in the game at the end, but will fall just short.
Notes:
UCLA leads the series 6-2, with Fresno State winning the last meeting 36-31 in 2008. The Bruins haven't started a season 0-2 since 2010, and hasn't gone 0-3 since 1971.
Dorian Thompson-Robinson became the eighth Bruin true freshman quarterback to start for the Bruins, following in the footsteps of

his predecessor Josh Rosen.
Southern Utah (0-2) at
Arizona (0-2)
Saturday, September 15, 8:00 p.m., PT, Pac-12 Network
Arizona Stadium, Tucson, AZ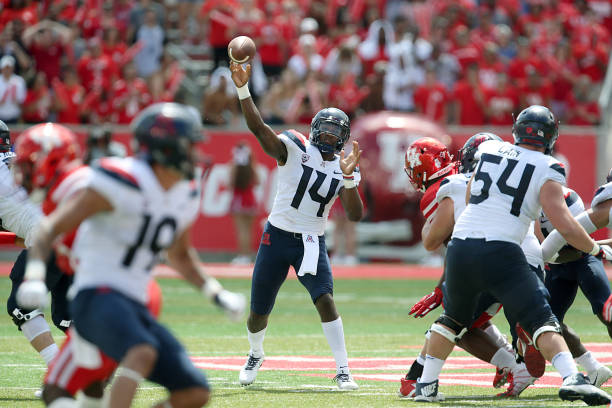 Arizona quarterback Khalil Tate throws against Houston last week on the way to completing 14 of 24 passes for 341 yards and two interceptions, with no touchdowns.
Pick: Arizona (no line) in a Blowout
The Wildcats should feel better about themselves against a Southern Utah team that gave up 649 yards and 48 points to Oregon State. The return of left tackle Layth Friekh should bolster Arizona's rushing attack, but the offense has bigger problems than simply shoring up the offensive line. Schematically, the considerable talents of Khalil Tate have been under-utilized, despite his passing output against Houston. Arizona's
defense has given up far too many big plays. The Thunderbirds won't provide much of a test on either side of the ball, but that isn't necessarily a good thing: the Wildcats won't be able to fully assess their adjustments until USC comes to town next week.
Notes: This is the first-ever meeting between UA and Southern Utah. The Cats have not started 0-2 since 1981, when they finished 6-5.
Senior Arizona wideout Shawn Poindexter hauled in a career high seven catches for 134 yards last week, the most by an UA receiver since Cayleb Jones' 182 in the 2015 New Mexico Bowl.