Posted on November 18, 2020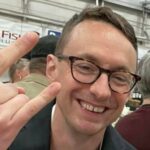 By Jack Follman, SuperWest Sports
T
he 2020 NBA draft was originally scheduled to be held at the Barclays Center in Brooklyn, New York, in June. However, due to COVID-19, it was pushed back to October, and has since been rescheduled for 5:00 p.m. PT tonight. It will be conducted via videoconferencing from ESPN's studios in Bristol, Connecticut.
I've included projections for all the selections in the first two rounds, but have only commented on the ones that matter most to us here in Pac-12 Country—the six Conference players I think will go in the First Round, and the four I expect to be taken in the Second Round.
—First Round—
1. Minnesota – Anthony Edwards, Shooting Guard, Georgia
2. Golden State – James Wiseman, Center, Memphis
3. Charlotte – LaMelo Ball, Point Guard, Chino Hills, CA
4. Chicago – Deni Avdija, Small Forward, Israel
5. Cleveland – Onyeka Okongwu, Power Forward, USC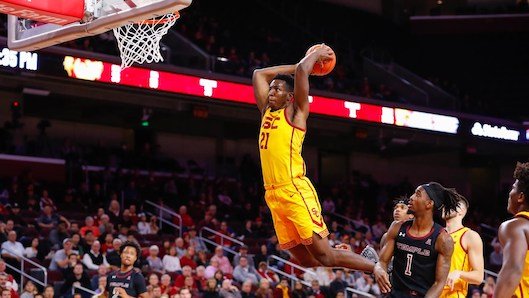 ► The Cavs are still in full rebuild mode and getting a young big man to take over for Kevin Love would be another great piece to add. Okongwu is a very good talent at this point in the draft in a year that's lacking the kind of superstars you might find at this point in the draft in a lot of years.
6. Atlanta – Obi Toppin, Power Forward, Dayton
7. Detroit – Tyrese Haliburton, Point Guard, Iowa State
8. New York – Isaac Okoro, Small Forward, Auburn
9. Washington – Saddiq Bey, Small Forward, Villanova
10. Phoenix – Killian Hayes, Point Guard, France
11. San Antonio – Devin Vassell, Shooting Guard, Florida State
12. Sacramento – Patrick Williams, Power Forward, Florida State
13. New Orleans – Aaron Nesmith, Shooting Guard, Vanderbilt
14. Boston – Jalen Smith, Power Forward, Maryland
15. Orlando – Precious Achiuwa, Power Forward, Memphis
16. Portland – Vernon Carey, Power Forward, Duke
17. Minnesota – Kira Lewis, Point Guard, Alabama
18. Dallas – Tyrese Maxey, Shooting Guard, Kentucky
19. Brooklyn – Isaiah Stewart, Power Forward, Washington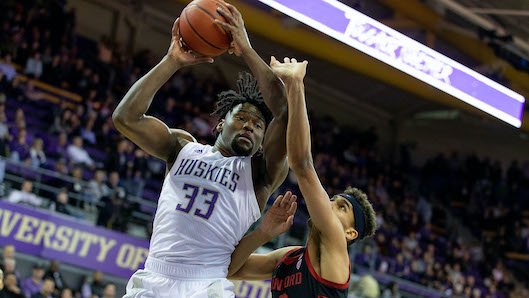 ► Stewart's draft stock has dropped a lot over the past year because of this throwback body and game but now I think that might actually help him a bit. He doesn't have the up and down the court superstar potential of some other players in this draft but he seems like a reliable bet to at least be a guy who can board and score inside at the next level and that's not a bad pick up at this point in the draft for a team that can use a big man.
20. Miami – RJ Hampton, Shooting Guard, Dallas, TX
21. Philadelphia – Desmond Bane, Shooting Guard, TCU
22. Denver – Cole Anthony, Point Guard, North Carolina
23. Utah – Tyrell Terry, Point Guard, Stanford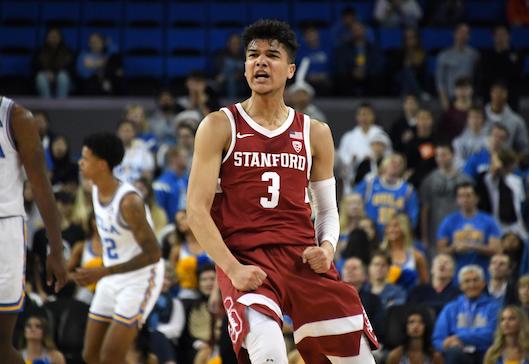 ► Terry feels like a player with such potential he could have come back, had a big year and been a top five pick in 2021. He's still a great value in this draft at this point for a team that could take a chance on a big potential player at a position where they should be set for a while like the Jazz.
24. Milwaukee – Theo Maledon, Point Guard, France
25. Oklahoma City – Tre Jones, Point Guard, Duke
26. Boston – Josh Green, Shooting Guard, Arizona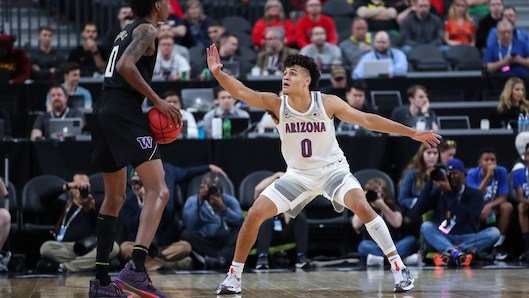 ► The Celtics have a deep and set enough roster they can plug in players who have specialties, like Green, a defender who could possibly play right away as a bench player. Green feels like a guy who gets taken late in the first and ends up getting a few minutes each game for a team that goes far in next year's Playoffs.
27. New York – Nico Mannion, Point Guard, Arizona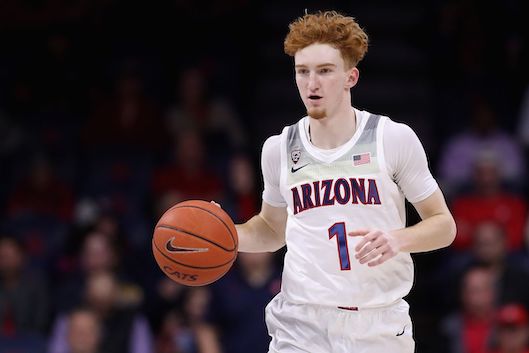 ► Another player who I think might have had a bigger career had he stayed in school longer who is still a great steal late in the first. I wouldn't be surprised if Mannion ends up being New York's starting point guard if they took him here within a year or two.
28. Lakers – Leandro Bolmaro, Shooting Guard, Argentina
29. Toronto – Jaden McDaniels, Small Forward, Washington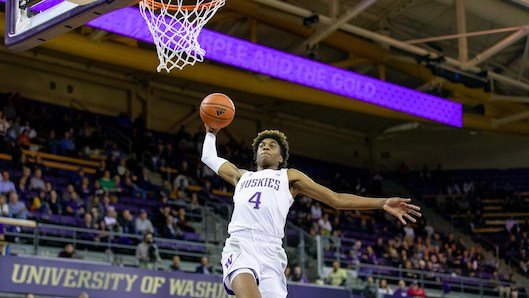 ► The 6-10, 200-ish McDaniels is one of the most-intriguing players in this draft and a guy who feels like he should be a top five pick, but just didn't put it together in one year in Seattle. Someone will take a flyer on him and don't be surprised if he ends up fulfilling his potential and being a scary scorer in the NBA after a little while.
30. Boston – Aleksey Pokusevski, Center, Serbia
—Second Round—
31. Dallas – Tyler Bey, Small Forward, Colorado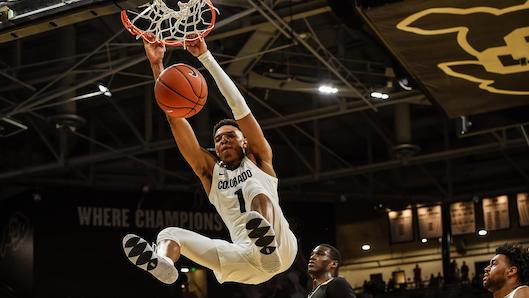 ► A long player with a great all-around game like Bey seems like someone any team could use. He might even be able to sneak into the back end of the first round.
32. Charlotte – Robert Woodard, Small Forward, Mississippi State
33. Minnesota – Malachi Flynn, Point Guard, San Diego State
34. Philadelphia – Zeke Nnaji, Power Forward, Arizona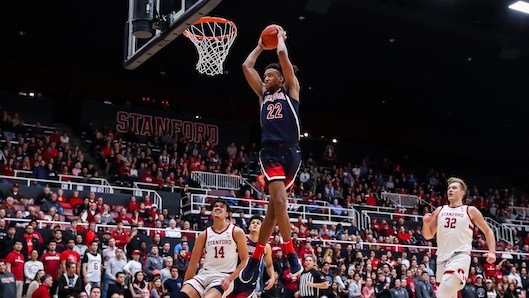 ► There aren't as many big men available in the draft as their used to be, and one with decent potential like Nnaji is a good value in the second round.
35. Sacramento – Jahmius Ramsey, Point Guard, Texas Tech
36. Philadelphia – Payton Pritchard, Point Guard, Oregon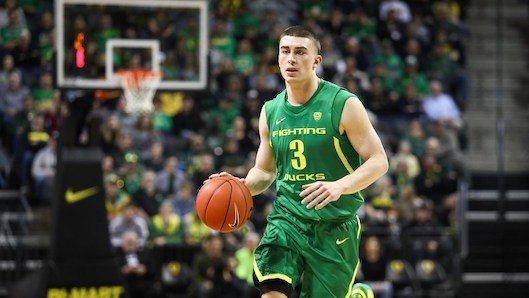 ►  I was close to predicting Pritchard to the Lakers at the back of the first round. Just couldn't pull the trigger. He won't stay around long in the second round.
37. Washington – Cassius Winston, Point Guard, Michigan State
38. New York – Elijah Hughes, Shooting Guard, Syracuse
39. New Orleans – Daniel Oturu, Center, Minnesota
40. Memphis – Xavier Tillman, Center, Michigan State
41. San Antonio – Ty-Shon Alexander, Shooting Guard, Creighton
42. New Orleans – Devon Dotson, Point Guard, Kansas
43. Sacramento – Udoka Azubuike, Center, Kansas
44. Chicago – Reggie Perry, Power Forward, Mississippi State
45. Orlando – Cassius Stanley, Shooting Guard, Duke
46. Portland – Isaiah Joe, Point Guard, Arkansas
47. Boston – Paul Reed, Power Forward, DePaul
48. Golden State – Grant Riller, Point Guard, Charleston
49. Philadelphia – Immanuel Quickley, Point Guard, Kentucky
50. Atlanta – Markus Howard, Point Guard, Marquette
51. Golden State – Karim Mane, Point Guard, Vanier College
52. Sacramento – Jordan Nwora, Small Forward, Louisville
53. Oklahoma City – Abdoulaye N'Doye, Point Guard, France
54. Indiana – Yam Madar, Point Guard, Israel
55. Brooklyn – CJ Elleby, Small Forward, Washington State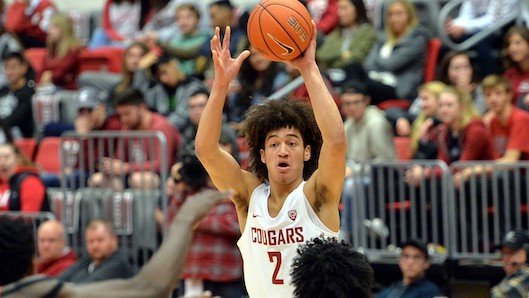 ► Someone will take Elleby's solid scoring and all-around game late in the second round.
56. Charlotte – Jay Scrubb, Shooting Guard, Trinity College
57. Clippers – Skylar Mays, Shooting Guard, LSU
58. Philadelphia – Nate Hinton, Shooting Guard, Houston
59. Toronto – Killian Tillie, Power Forward, Gonzaga
60. New Orleans – Lamar Stevens, Small Forward, Penn State
---
—More from Jack Follman—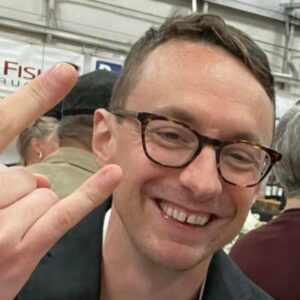 Latest posts by Jack Follman
(see all)